Description of the activity
The research activity is aimed at developing new analysis and diagnostic methodologies mainly based on the use of imaging technologies. In the activity using cameras and instruments of the Thermography and Infrared Imaging Laboratory of the ISASI-CNR, operating in the infrared regions: NIR, SWIR, MWIR and LWIR, are developed Image Sensing systems that allow a non-invasive analysis useful for applications in the fields of precision agriculture, cultural heritage and non-destructive diagnostics (NDT). The analysis is performed both with a passive approach, monitoring the sample in the conditions of natural light to which it is normally subject, and with different active approaches (Lock-in, PT, PCT, etc.), studying its behaviour before, during and after being stimulated with sources (coherent and non-coherent) in the spectral regions ranging from UV to NIR. The information achieved from this type of investigation allows both to implement new analysis systems based on the images useful for monitoring the structural properties of the sample, and to study its functional response to different light stimuli, contributing to the scientific understanding of the mechanisms governing such responses. Part of the research activity concerns the development of ad-hoc operational protocols and the realization of home-made analysis procedures through the use of MATLAB constructs or the C ++ language.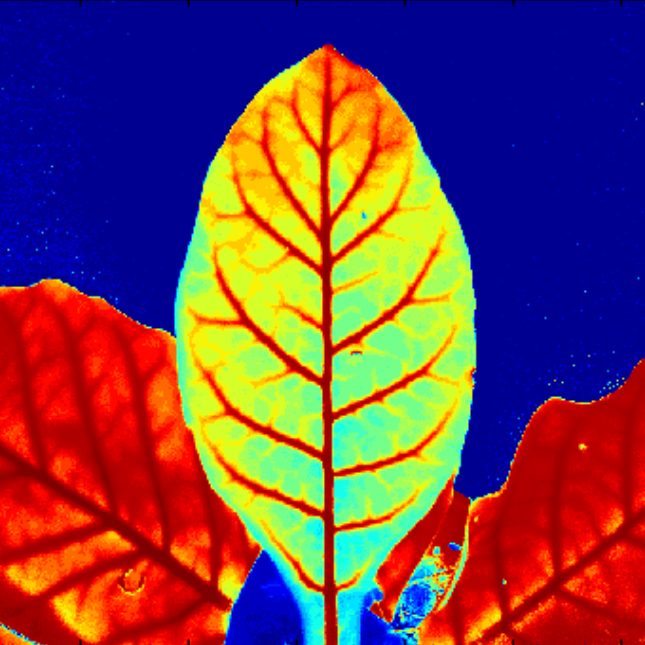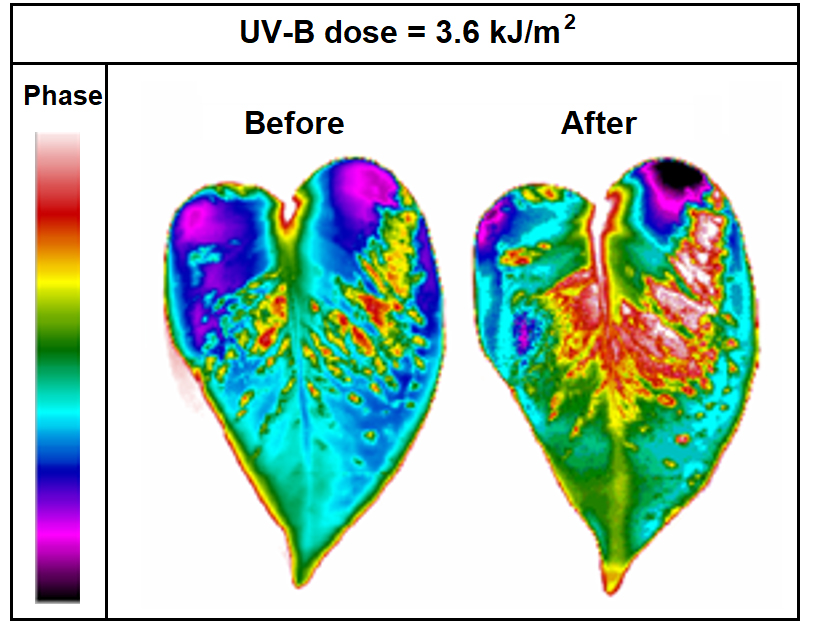 Involved personnel
M. Rippa | P. Mormile
National and International Collaborations
CNR – National Council of Researches (IPSP – Institute for Sustainable Plant Protection)
CAAS- Chinese Academy of Agricultural Sciences (Institute of Environment and Sustainable Development in Agriculture)
University of Naples "Federico II" (Department of Agriculture, Departments of Pharmacy, Department of Chemical, Materials and Industrial Production Engineering)
University of Salerno (Departments of Pharmacy – DIFARMA)
University "Suor Orsola Benincasa
University of Naples Parthenope (Engineering Department)
Research Center for Cereal and Industrial Crops (CREA-CI)
Instrumentation/facilities
Thermal camera MWIR: FLIR X6580 sc – spectral range: 3-5 µm, sensor InSb, FPA 640×512.
Thermal camera LWIR: AVIO TVS 500 – spectral range: 8-14 µm, sensor microbolometrico, FPA 320X240.
Camera SWIR: XEVA 320 – spectral range: 0.9-1.7 µm, sensor InGaAs, FPA 320×256.
Thermal camera MWIR: LAND FTI6 – spectral range: 3-5 µm, sensor HgCdTe, FPA 256×256
Camera NIR: FLIR Grasshoper3, GS3-U3-41C6NIR-C, 1" CMOS.
Polarized color camera: FLIR Blackfly S, BFS-U3-51S5PC-C, 2/3" CMOS.
Filters: spectral filters in the region 700-1500 nm
Spectrophotometer: Ocean Optics MAYA 2000 pro – spectrophotometers for colorimetric analysis equipped with optical fiber (core 400 µm). Spectral range of acquisition: 165-1100 nm.
Infrared headlights: CANTRONIC System – infrared lighting system consisting of two lights with 20 W LED matrix and emission peak at λ = 940 nm
Halogen light source (UV-Vis-NIR) : Ocean Optics DH-mini.
Light calibration source (UV-Vis): Ocean Optics DH-2000.
Pulsed lighting source: ELINCHROM Zoom Action Head – flash lamp with stand, equipped with zoom mechanism.
Control system for pulsed lamps (flash): ELINCHROM Digital 2400 RX – generation of flash light pulses of 2400 W/s.
Halogen lighting sources: PAR- 64 LB – 4 halogen headlights with metal support.
Control system for lamps with variable waveform: Multi DES V 2.0.
Dimmer system with 6 channels HQ Power
Multi-channel digital acquisition station: FLUKE 2638A – acquisition of signals DC/AC (100 mV – 300 V), resistance (100 Ω – 100 MΩ) and thermocouples (-200 °C – 1000 °C, 22 channels).
Thermocouples: System of 12 type K thermocouples with 10 m length extensions for field measurements.
RGB and white LED lighting sources: Power LED – flexible RGB and white LED strips of length 5 m with 60 led/meter.
UVA/UVB lighting sources: PHILIPS lamps with spectral range of emission in the UVA (TL-D 18W) and UVB (broadband TL 20W) region.
Optical table: Newport RS 100 – dim. 180×120 cm, with 4 laminar flow supports PL 2000.
Active projects and contracts
PSR 2014/2020 Misura 16 -Tipologia di intervento 19.2.1 – Bando Misura 16.1.1 – Azione 2

Title: Valorizzazione della BIOdiversità cerealicola in regime BIOlogico
Acronym: BIOeBIO
Financed by: Regione Campania
Period of activity: 01/07/2021 – 30/06/2022.
Coordinates: Protocollo GAL n. 487 del 27/07/2021, DICA N. 59/2021.
Link: Not available at moment.
Responsability: TERRAMADRE società cooperativa agricola (Capofila), M. Rippa (Principal Investigator ISASI CNR).

Research contract for the activities of the project DI.BIO

Title: Affidamento del servizio tecnico-specialistico di analisi morfologiche al microscopio a scansione e microanalisi sulle foglie trattate con miscele di BIOGEL a varie concentrazioni.
Financed by: Centro di ricerca per la cerealicoltura e Colture Industriali (CREA-CI).
Period of activity: 28/08/2020 – 27/02/2022.
Coordinates: Repertorio n. 2 del 18/06/2020, CUP: C74I18003150001, CIG: Z422D55E0F, Protocolo CNR n. 0001664/2020 del 8/9/2020.
Link: Not available.
Responsability: Massimo Rippa (Principal Investigator ISASI CNR).
Note: Research contract for the activities of the project DI.BIO
"Riduzione di input di ordine extra-aziendale per la Difesa delle coltivazioni BIOlogiche" – WP 5
"Strategie alternative all'uso del Rame in viticoltura in funzione dei cambiamenti climatici" –
CUPROSUP, financed by Ministry of Agricultural, Food and Forestry Policies (Mipaaf), with
D.M. 3400 del 28/12/2018.

Projects in PDGP 2021-2023

DFM.AD005.315.001 – Caratterizzazioni ed Analisi Multispettrali (CAM).
Responsabile: M. Rippa.
DFM.AD005.325.001 – Analisi Multispettrali UV-VIS-NIR di campioni di interesse per il settore Agrifood (AMA).
Responsabile: M. Rippa.