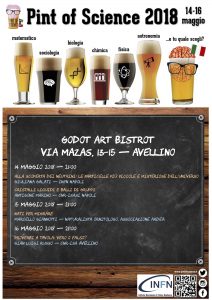 The 2018 edition of Pint of Science was held simultaneously on May 14, 15 and 16 in 21 countries.
For Italy it was a record edition: from the six cities of the first Italian appointment (2015) a number of 20s was reached. In Campania, the event was held in eight different venues, distributed between the provinces of Avellino, Naples and Salerno.
On May 14 at the Godot Art Bistrot in Avellino Antigone Marino gave a speech on the theme Liquid Crystals and group dances.