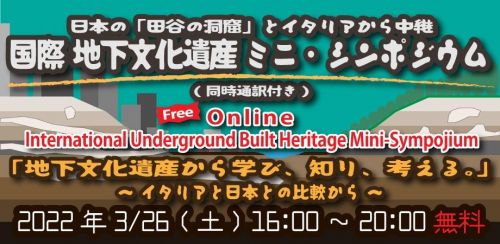 On March 26, 2022, researchers from Italy and Japan will talk during a virtual symposium about "Damage assessment and conservation of underground space as valuable resources for human activities use in Italy and Japan".
The symposium has been organized in the research agreement between Italy and Japan (bilateral program) whose principal investigators are Roberta Varriale (IsMED – CNR) and Chiaki Oguchi (Japan Society for the Promotion of Science -JSPS).
Marco Leo (researcher at ISASI-CNR) will participate in it by presenting innovative technologies for monitoring heritage by exploiting machine learning algorithms able to improve data acquired by off-the-shelf optical devices.

The event will start at 8AM (CET).
please register at https://peatix.com/sales/event/3164132/tickets
(Registration required)
Simultaneous translation will be provided (English/Japanese).