Description of the activity
Adopting a conscious approach to forest management is essential for maintaining forest health, with new solutions and protecting biodiversity. Vegetation health monitoring can provide important information on the past and present state of the forest heritage. The vigour and integrity of forest vegetation are among the most important indicators of the impacts of climate change and fragmentation due to various factors; in particular, the increase in population and industrialization influences the phenomena of deforestation. Pests, diseases, soil contamination, air pollution, drought and extreme weather conditions impact on forest deterioration. Some of the symptoms of forests stress can be detected by new remote sensing methodologies.
The research group's activities focus on the development of new imaging sensors and algorithms for the analysis of data acquired by airborne systems. These tools, mostly relying on artificial intelligence, are able to monitor the state of health of plants and the soil, recognize any threat and automatically assess their danger. The use of innovative optical systems operating in the infrared region, and integrated onboard drones, is an enabling technology to improve spatial resolution and allow imaging in adverse climatic conditions. For example, the research group develops modules for the prevention of arson and self-combustion fires, and for the assessment of any hydrogeological risks associated with the exploitation of woodland resources.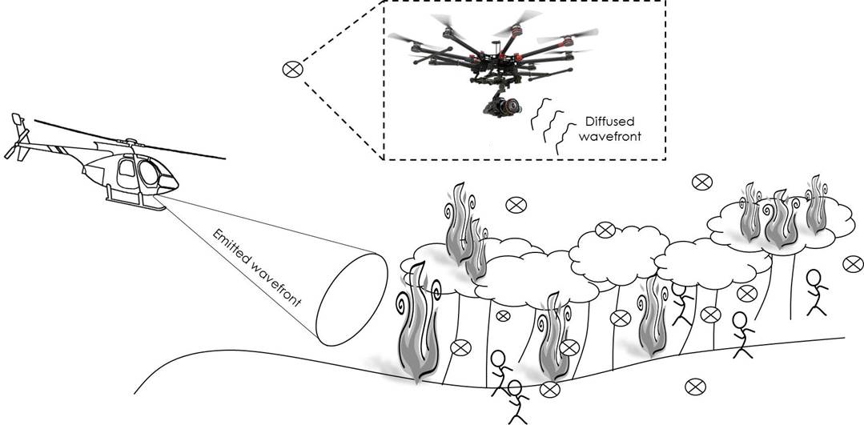 Involved personnel
C. Distante | P. Ferraro | P. Spagnolo | V. Bianco | P. Memmolo | L. Miccio
National and International Collaborations
Distretto Aerospaziale della Campania (DAC),
Officine Meccaniche Irpine (OMI).
Instrumentation/facilities
Digital Holography Labs,
workstations for Artificial Intelligence,
autonomous vehicles (drones).
Active projects and contracts
Fabbrica Intelligente, PON-MISE Project- ENabling technologies for Defence and mOnitoring of the foRests (ENDOR)